Archive for May, 2015
By: Linda Ramirez
As a student, I always find myself thinking about what constitutes a "successful" internship and how to make the most of my time at the job. I have always been told that internships are always useful to help build your resume and to learn useful skills for future career success, but what really is expected and what can we do to make the best of an internship? Well, here are a few useful tips to keep in mind to ensure you get the most out of your internship:
1. Set personal goals. Before accepting a position make sure to lay out your goals. Go into an interview knowing what you expect to gain from an internship. Be clear about what skills or specializations you want to gain on the job and at that organization specifically. Laying out your concerns from the very beginning with a prospective employer will not only make you stand out as a person who knows what they are looking for in an internship, but allows you to make a sound decision about what is best for you. Also make sure to ask the interviewer what is expected from you as a potential employee, this will help decrease any future confusion.
2. Dress for success. Always remember the saying "Dress for the position you want, not for the one you have". Make sure that you know the dress code before even starting at your new position. Acting and dressing professionally goes a long way and shows that you are taking the job seriously. Always keep in mind the tasks you will be doing and dress accordingly. Dressing appropriately reflects what you think of the job, your skills, and your confidence in yourself.
3. Be positive and enthusiastic. Keeping a good attitude is very important. Remember that your attitude can be contagious and being negative reflects poorly on your performance. Learn to be respectful towards others and keep an open mind. Different people have different styles of thinking and communicating – learning to adapt will broaden your future opportunities, you never know who will present you with the next big opportunity. Treat all aspects of the business equally, frowning upon certain responsibilities is not a good thing to be known for. Remember to also treat people how you would like to be treated.
4. Take initiative, challenge yourself. Employers love to see their employees come up with new ideas in the work place – it's no different in an internship. After all, a company's people and ideas are its biggest asset. Find new ways to increase efficiency in the workplace without overstepping your authority. You should be enthusiastic, but keep in mind the boundaries of others as well. Make sure to treat the internship as a real job. If your take your job seriously, the supervisors or managers are more likely to take you seriously and invest in you. Never turn down the opportunity to learn more about your company or to learn a new skill. Participating in company meetings, conferences, or events can offer a chance to increase your learning. Which brings us to our next point…
5. Down-time. In any job, you will eventually reach a time when you are low on work to do. No job will keep you constantly busy. This is where you have to learn to be proactive. Take the initiative to go to a manager or supervisor and let them know that you are low on work and would like more responsibility. This will make you stand out as a person who likes a challenge and takes their job seriously. Always go above and beyond!
6. Anticipate "busy work." Going into any internship, regardless of career choice, you will be one of the newest members of the team, often with the least amount of expertise. You have to know that in any career you will be expected to do some clerical work. Even if you feel that your skills are not being used to the max, you have to keep in mind that even the highest paying jobs will require day to day clerical work like copying, data entry, and administration. Being open-minded with your internship duties will pay off by showing your supervisors that you are a team player and that you are willing to work hard for what you want. Just make sure to speak up if you feel that you are being taken advantage of.
7. Don't be afraid to ask questions or get help. A question you never ask will never be answered. Don't be afraid to go outside of your comfort zone and ask for help. Remember that an internship is a learning experience and you are not expected to know everything off the bat. There really is no such thing as a "dumb" question and the right internship program will allow for support. Asking for help shows that you want to do things right and take your responsibilities seriously.
8. Time management. One of the most important skills sought after in a future employee is time management. It exemplifies reliability and productivity. Being able to manage your time encompasses many important aspect of a job. For example, being punctual is very important for time sensitive tasks. If you are not able to come in for a shift it is important to notify your employer as soon as possible. Being replaced for a shift, especially when time sensitive projects are on the table, takes time on the employers part so notifying them with as much time as possible is essential. Managing your time between tasks is also very important. You want to be able to finish tasks of higher priority first than those that could possibly be done later in the day. Learning to prioritize your tasks helps with meeting deadlines and avoiding procrastination. This will help you stand out and increase your chances of getting more important tasks in the future from your supervisor. Last but not least, always be prepared for your daily work, whether that be meetings or presentations. Preparing ahead of time decreases chances of getting caught off guard or of making avoidable mistakes. This is all a part of time management.
9. Meet with your supervisor regularly. Allocating some time to meet with your supervisor once every couple of weeks helps solve a vast array of problems that may arise. This time can be used to get feedback and receive constructive criticism on your performance. You can also use this time to talk to your supervisor about any conflicts you have run into during your time at the company. Use this time to express your concerns or acknowledgements, but make sure to still be professional. Many conflicts arise due to the many different people and working styles. If you aren't assigned a meeting with your supervisor on a consistent basis, make sure to request one!
10. Network and stay connected! It is important, at any job, to socialize. The colleagues at your internship are part of your network and some may be very powerful allies in your future. Get to know them, but always remember to keep it professional. It's important to conduct yourself as a professional at all times. Building professional relationships with supervisors and managers will help you gain key knowledge and much needed mentorship. Every connection you make yields information you don't have. Remember that many others have already gone through the career application process and know tips that you can use to have greater success in the application process. It is important to note that you should try and not burn bridges, even with bad experiences. You never know when it could come back to haunt you. Last but not least, stay in touch. There are several networking media sites available, such as LinkedIn, so use them that's what they're there for!
If you follow these tips, you will be able to anticipate what employers expect from an intern and put yourself in a position to gain the most out of your experience in an internship. More than that, these skills will help make you a more rounded professional in your future career.
This post was submitted by one of our own Govig interns – an awesome one we might add. For more information on our internship program check out our website and apply for an internship today!
Visit us on our LinkedIn, Facebook, or Twitter pages to see what we're all about or review us on Glassdoor​! As always: Govig or Go Home!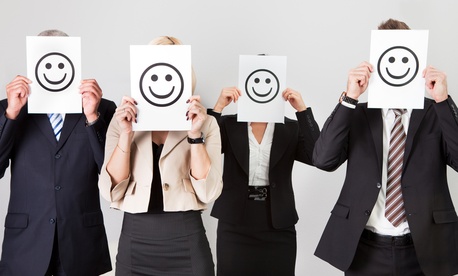 How many times have you woken up to a terrible morning that lead into an unlucky series of events throughout the day? When was the last time you came up with a brilliant idea on a "bad day" at work? Well, your mood has more to do with that than you may think. Many studies conclude that unhappy employees lead to poor results in the workplace.
Recent studies have focused heavily on the impact of employee satisfaction and happiness on their productivity. According to a Bloomberg Business article, "if happier on a given day, people were not only more likely to come up with a new idea or solve a complex problem that same day but also to do so the next day" (2012). Studies have shown that employee dissatisfaction severely impacts overall company productivity and often comes at additional heavy costs.
So, as an employer, how can you raise spirits within the office and ward off the negativity? Below are 4 ways for employers to create a "happier" workplace to encourage more productive employees.
1) Pay fairly. Going back to the very basics, being paid fairly is a critical minimum for employees. Employees that feel fairly compensated and financially secure can focus more on emotional positivity.
2) Providing exceptional benefits. Now, benefits doesn't have to equate to anything costly like additional vacation days or a to-die-for 401(k) plan. Get creative! Strive for a happy work-life balance such as providing alternative transportation solutions to and from work, childcare subsidies, a fitness center subscription or even occasional catered lunches in the office. Benefits go a long way for your employees and have a residual benefit of creating a strong culture (that's a subject we'll get into later). Even if these benefits aren't utilized by all employees, the extra effort provided by an employer shows concern for their well-being and increases job satisfaction.
3) Maintaining an 'open door' and 'open mind' policy. Imagine having to suppress exciting ideas out of fear that they will be shut down or go unheard. This could be due to a close-minded manager or lack of clarification where to bring new ideas. There is a direct correlation between open minded management and increased employee engagement. As an employer, this requires a double-pronged solution. First, it means making sure you have the right management who keep an open mind about the individuals they manage and encourage this behavior on the floor (shameless plug, Govig can help with that). Secondarily, this requires effort in maintaining a transparent environment to foster creativity. If you truly have an open door policy, make it explicitly known to all employees that open mindedness is embedded in your culture.
4) Encourage a fun work environment. With employees typically spending five days a week in an office, as an employer you really want to try as hard as possible to make work a "home away from home." Employees should feel like they can bring their personalities to work: flaws, quirks, passions and all. Try assigned casual dress days or provide a creative space to utilize during breaks or lunch hours. Popcorn machine, anyone? Providing a rejuvenating environment lends itself to a less stressful environment and helps combat "bad days."
So while not all series of unfortunate events can be cured, following a few of these pieces of advice will help foster a happier workplace for happier, more productive employees.
Searching for the right talent solutions? Look no further. Govig & Associates specializes in executive recruitment and talent management solutions across several industries nationally. Govig or Go Home!